Program SONNE, vers. 7.5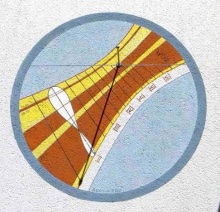 The program runs on all Windows systems (64-bit-versions too) and calculates about 20 (!) different types of sundials. You can draw the dials on screen, have them printed with all printers installed or saved as file with format *.dxf (AutoCad,...) or *.plt (HPGL). SONNE and its (chm)help files are offered in English and German.
Improved Sun Path Diagrams show the times of sunshine on any selected plane sundial too. Additionally the local skyline (horizon profiles without buildings and trees) can be calculated and displayed.  ( ... more)  
Unpack downloaded zip-file to your subdirectory or USB-stick and start Sonne75.exe. If the chm-help is displayed only partially, see the enclosed README.
Download Program SONNE, vers. 7.5  (packed as Sonne75.zip, ca. 11 MB)