ÖSTERREICHISCHER ASTRONOMISCHER VEREIN
Arbeitsgruppe Sonnenuhren (GSA)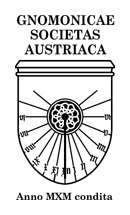 The AUSTRIAN ASTRONOMICAL SOCIETY, Sundial Working Group, published early Sept. 2006 the 
3rd Edition of the
"Catalogue of Stationary Sundials in Austria"
by Karl Schwarzinger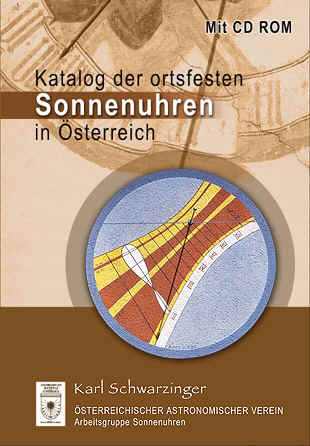 The catalogue has been thoroughly revised and updated. It contains 232 pages  in 16.5x24cm format and describes over 3,300 stationary sundials.
The chapters of the Catalogue are
History of sundials in Central Europe
General introduction about sundials
Descriptcion of all documented stationary sundials in Austria
A great number of reproductions with 16 pages in colour print
Alphabetic index of localities
Register of Austrian museums and collections with portable sundials 
Additionally, a CD ROM is enclosed offering access to more than 3,000 photographs of Austrian sundials. The specific (Windows-) software created for this CD allows for searching systematically for each individual sundial or category of sundials. Furthermore, this CD includes all "Rundschreiben", the circulars dispatched by Austrian Sundial Working Group from 1990 to 2005 in pdf-format, all of them with full text search option.
As of now the Sundial Working Group offers to buy the Catalogue of Stationary Sundials in Austria 2006 including the original CD and an UPDATE CD. The UPDATE CD comprises more than 1.000 new additional sundial pictures, more than 180 new registrations, and the RUNDSCHREIBEN No 31 to 39, issued since that time.
How to order
The articles listed above are offered as a package for a total price of € 15.00 plus postal charges. The postage for Austria is € 3,70, for other European countries it is € 7,70. 
The catalogue is ordered by remitting the above mentioned amount to the following banking account.  Upon receipt of the money the book will be sent by post. 
Please, make sure to write your precise address on the payment form!
Payment by bank transfer to:
    Acct. of: Astro Verein, KATALOG SONNENUHREN 
            Acct. no.: 0300-002771, 
            At: Sparkasse der Stadt Feldkirch,   Bank identification code: 20604, 
            IBAN: AT552060400300002771,    BIC: SPFKAT2B
Please note that the bank transfer must be free of costs for the recipient.
Questions, comments or letters
to the secretary and head of the Sundial Working Group:
              Peter Husty, Bayernstrasse 8b, A - 5411 Oberalm
              E-Mail: This email address is being protected from spambots. You need JavaScript enabled to view it.
or to the treasurer:
              Norbert Rainer, Berggasse 4, A - 3500 Krems a.d. Donau
              E-Mail: This email address is being protected from spambots. You need JavaScript enabled to view it.